NEW BUSINESS MODEL PRESS RELEASE
CONTACT INFO:
PersonaGrip
Ed Dellis
2973 Harbor Blvd, #314, Costa Mesa, CA
+1.714.342.3020
personagrip@yahoo.com
FOR IMMEDIATE RELEASE & DISTRIBUTION
Covid Helps PersonaGrip's NEW Industrial Ergonomics Training Programs
Costa Mesa, CA — Thanks to Covid-19, PersonaGrip's proven ergonomic Custom-Moldable Handgrip Technology can be administered correctly for assembly line workers with remote tech support now possible via videochat.
So, after the 2-Day on-site training teaches tool crib technicians the basics for grip installation and tuning, technical assistance is now just a tap away via video chat where Dellis can literally show new techs how to solve their design issue using a similar tool in his studio. Rising-star designers will emerge in the online forums and can offer assistance, as well.
Different designs are required in shared-tool work environments compared to those used in dedicated-tool assembly lines. PersonaGrip's unique remoldability allows techs to zero-in on proper ergonomic fit over a period of time using feedback from the workers. Whether the grip is designed for an individual worker or an entire team of workers, tool crib personnel are taught how to create these ergonomic hand grips from scratch. The second video immediately below (at the end of the Short Version) shows the raw material being applied to a ball-joint separator for knuckle protection: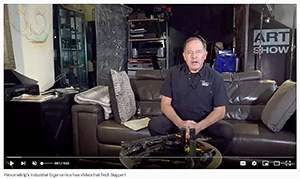 https://youtu.be/eZ2S_76L33w (Full Video – Ergonomics Training 9:34s)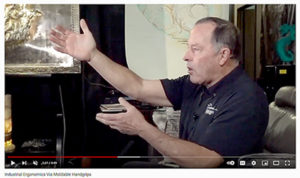 https://youtu.be/MSWH-ptIoBg (Short Version – Ergonomics Training 4:50s)
Inventor, Ed Dellis, visits factories and provides the 2-Day Training Program where up to five technicians receive face-to-face training from the inventor himself. Upon completion, factories are then certified to purchase PersonaGrip's proprietary raw thermoplastic material in coils: 1/8″-thick x 4.0″-wide x 60″-long. The Slip-On Grips are similar to motorcycle grips, and feature the 1/8″-thick moldable layer on top of a non-moldable rubber Santoprene core; they are available in the standard 7/8″ (0.875″) and 1.000″ ID sizes.
Post-training support comes via the same social media videochat apps that Covid's isolation taught us to use over the past two years, and provides technicians with direct access to Dellis' more than three decades of experience where he helped US Olympic athletes win Gold, and drivers win championships in IndyCar, NASCAR, Formula One – both Cars and Boats, Unlimited Hydros, and other professional racing series.
https://youtu.be/JndKJ10ttTk (ESPN Track Fact at Mid-Ohio IndyCar Race, 1:41s)
HISTORY
PersonaGrip's 2-Day Training Programs began in factories across America and Canada in the mid-'90s after NIOSH's own university-proven EMG tests showed a direct link to preventing repetitive-strain injuries such as carpal tunnel syndrome. This occurs when physically stressed assembly line athletes push their bodily limits for both repetition and force. However, PersonaGrip must be installed and used properly for any benefits to occur.
PersonaGrip's early clients for on-site training include: Toyota (USA, Canada, & Japan), General Motors, Ford, Chrysler, Harley Davidson, Kenworth Trucks, Illmore Engineering, Texas Instruments, Hallmark Cards, Rockwell Industries, GoodYear Tire & Rubber Company, Delphi Energy & Engineering, Ciba Vision, Campbells Soup Company, Xerox, Zippo Lighters, and many more.
https://youtu.be/7U-PUse6OFs (Manager's testimonial at Toyota, Georgetown, KY, 0:51s)
WAKE UP CALL
Proof of difficulty in designing grips properly became apparent to Dellis after he recently received a phone call from IndyCar headquarters in Indianapolis. With patents now expired, they told him that their drivers were now attempting to mold their own steering wheel grips.
Unfortunately, their poor top wing designs were injuring the drivers' thumbs since they did not factor in rapid egress in the event of a steering kickback after contact with a wall or another car. Yet, they continue to use molded grips to this day due to the vastly improved steering feedback signal which allows them to drive right up to the limit with much greater confidence.
https://www.steeringwheelguy.com/
Dellis likens his composite heat-moldable thermoplastic material to artist's paint, "Just because you have paint, doesn't mean you can paint."
Similarly, the hand's interaction at the HMI (human-machine interface) is much more complicated than it initially appears. Dellis claims there's both an Art and Science to creating custom shapes that are not only comfortable but also reduce, or eliminate, hand fatigue completely.
GOVERNMENT RESEARCH
Independent EMG tests of PersonaGrip on a Lido Work Simulator at NIOSH (National Instituite of Occupational Safety and Health) using standard university test procedures recorded a 54% reduction in effort for sliding, and a 43.5% reduction for torque. According to the scientists, this less-than-half-effort discovery represented a complete paradigm shift in how we interact and control objects around us.
As workers learn more about how their hands interface with their new leverage-based molded hand grips, they become inclined to reshape and fine-tune the various wings, flutes, flanges and other design elements. They do this repeatedly using a heat gun until they're perfect; either by themselves, or with trained assistance.
As such, PersonaGrip trains tool crib personnel at factories with the time-proven labor-intensive process that includes three basic opportunities to zero-in each individual design: Installation, Fine Tuning, and Final Treatment.
Thanks to over a year of experimentation with different raw materials, PersonaGrip's frictional release characteristics can be dialed in with different surface treatments. Dellis says, "During PersonaGrip's early testing and development stages, the sample compounds I received from suppliers felt too much like slippery patio furniture plastic. I needed it to feel more like porous rubber with predictable stick-slip release characterics, not just smooth plastic."
"You want the grip to stick when grabbed, but release in a smooth, predictable, and controlled fashion. For example, this happens when it's released for micro-adjusting to settle a binding leather glove. Different surface treatments can be used to tailor the grip's feel after the basic shape is dialed-in, and I cover all of this in the Training Program." Dellis concludes.
Designing grips properly is an evolutionary, interactive process.
Dellis continues with this teaching script, "Tool companies are compelled by shareholders to create generic grips for the 50th Percentile hand size, or else they can lose sales. So, their grips are passive and rely mainly on the friction between the glove and grip for control and feedback. This means those generic grips must be squeezed. Well, not anymore. By video recording each tool in use and then studying how the hand interacts with the tool, we can create carefully contoured shapes that rise up off the tool's generic surface and enable workers to press or "lean up" against them using leverage to gain better control with far less effort. Science proves this."
The 2-Day Training Program includes enough material to train up to five tool crib personnel at each location, and, for a limited time, it is now offered at the same price it was over a quarter century ago…for less than the cost of a Corvette C8 transaxle.
###
NOTES:
1)  ALL Zip Files contain both Plain Text (.txt) and Rich Text (.rtf) files.
2)  Zip Files Contain a Full Set of images of the TOOLS in various resolutions including 5000-pixels for Magazine Printing.
3) The BRANDED Full-Res zip has a very faint (barely noticeable) PersonaGrip.com URL at the bottom.
ZIP FILES
Media Kit 5000 pixels w/Branding
High-Res Photos •  Research Data  •  Eye Candy
Tool Grip Downloads are Available in 3 Sizes: 1000 px, 2500 px, 5000 px (branded and unbranded), using links below photos.