Industrial Ergonomics Training -- Helping Assembly Line Workers Avoid Injury
We show you how to Design, Build, and Implement
Custom-Moldable Ergonomic Handgrips.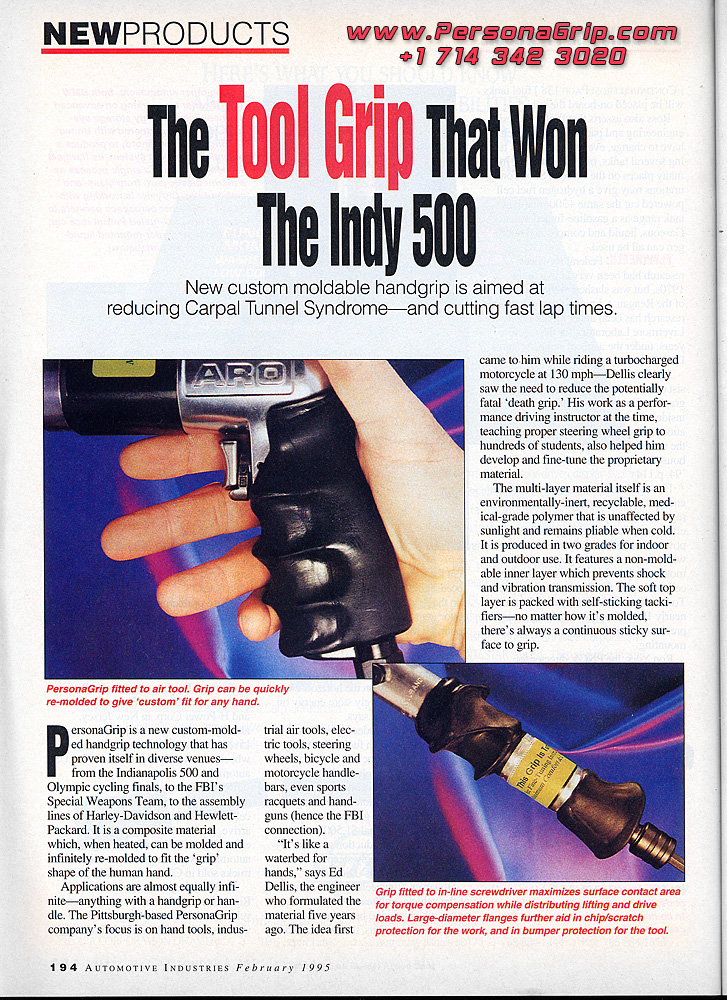 Industrial Ergonomics Using Moldable Handgrip Technology
Accommodating Hand Movement – Micro Adjusting
Dual-Modality Vibration Attenuation – Isolation/Absorption
Multi-User vs. Single-User Work Environments
Force/Motion Analysis Using Video
Ergonomic Information Capture
Leveraging Basics
Ingress/Egress Handgrip Molding Techniques
Basic Hand Anatomy
Timing Exertions
Time/Temperature Relationships of Various Moldable Materials
Various Surface Treatments and the Effect on Hand Grip Performance
Handgrip Welding, Filleting, Burnishing, etc.
Record Keeping, and Organization.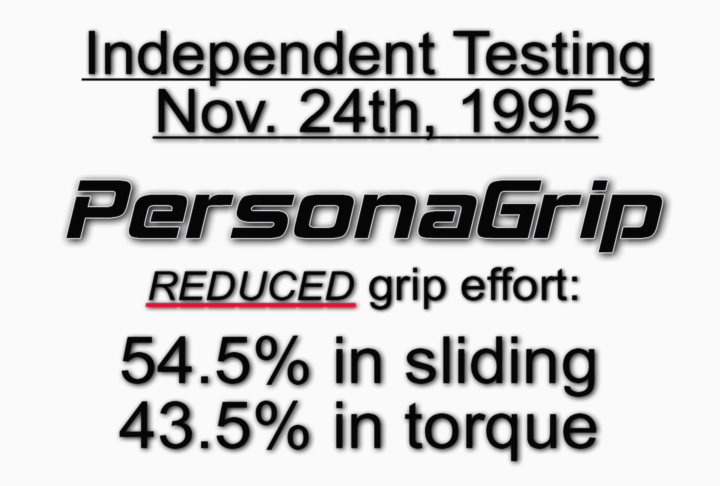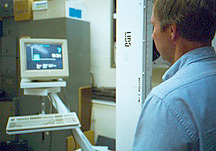 Proven by Science
Unexpectedly high reductions in grip effort revealed a new Paradigm for contact at the Human-Machine Interface.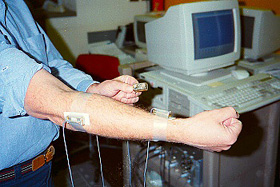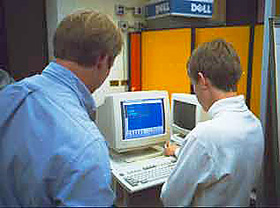 Training Programs -
You will learn how to design and install PersonaGrip custom-moldable ergonomic handgrips for the industrial athletes on your assembly lines.
PersonaGrip's Two-Day, Train-The-Trainer Ergonomic Programs are designed for companies interested in establishing an in-house ergonomics program that can reduce injury costs through relaxed grips on tools.  In turn, this helps improve employee health and morale.
Day-One Training – Trainees can expect a minimum of four hours classroom time covering the basics of ergonomic handgrip design theory.  They observe Dellis molding grips on various tools.
After lunch, hands-on ergonomic handgrip molding is explored so that trainees are adequately prepared for Day Two.
Day-Two Training – Trainees are put in real-world live ergonomic handgrip development — under close supervision and guidance.
Industrial Athlete Discusses PersonaGrip
PersonaGrip Moldable Handgrip Tech Support
Tech Support – Trainees get ergonomic assistance using today's smartphone videochat technology.  Via videochat, we can see the issue, and offer advice showing trainees how to properly mold the custom hand grips using PersonaGrip's in-house tools.
After training, industrial workers know how to use their new ergonomic leveraging-type hand grips.
On site, we shoot video and perform force/motion analyses of industrial workers interfacing with their generic tools.
Focusing on handgrip exertion, we train industrial workers to use less force to complete the task with their new leveraging ergonomic hand grips.
We provide them with a new awareness of how to grasp a tool, and carefully time their exertions throughout a stroke to minimize injury and conserve energy.