Motorcycle Hand Grips -- Design Them Yourself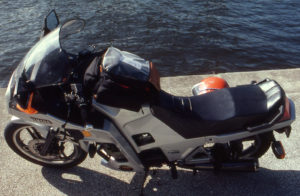 PersonaGrip custom moldable handgrips were invented aboard a turbocharged motorcycle after Dellis got arm-pump from traveling at "paralegal speeds" for over 14 minutes.
Just like when he raced AMA Motocross in South Florida in the '70s, fatigue set in using aftermarket  "foam-rubber grips" that required him to squeeze the grips to have control…otherwise, his hands would have slipped off, right?
So, as riders we have always equated more control with increased grip tension since we're relying only on the friction between our gloves and the grip's surface…well, not anymore.
PersonaGrip uses LEVERAGE against carefully designed, built-up surfaces that rise up above and sink below the grip overall surface to prevent any unwanted motion that happens when you relax your grip…this is NOT magic, just pure physics.
But, here's the thing:  it's not as easy as it looks…just ask the IndyCar teams who've used Dellis' technology for over a quarter century.  Not just IndyCar, either…Formula One, NASCAR, IMSA, F1 Boats, The Unlimiteds,
When you have total control over the Human-Machine Interface (HMI) using composite thermoplastics, you are now free to experiment with different grip designs…at will.
Total Control means not only its 3D shape, but the surface textures and embossing features, too.
The 3D shape alone factors in myriad variables that go unnoticed when you've lived your entire life relying only on friction between your glove/grip.  Now, you need to analyze (video is ideal for this, btw):
Hand Motion
Wrist Angle
L/R Positioning
Glove Design/Feature Elements
Hand Ingress/Egress
Riding Style
Hand/Finger Size, Length, Girth
Handlebar Controls
Fixed-Hand vs Multi-Position Micro-Adjusting
Glove Break-In
Lever Design/Positions
Embedded Controls
Electrical Switch/Wiring Potting
Finger Fluting/Spacing
Wing Designs
Concave vs Convex Surfaces
Palm Swells
Thumb-and-End Flanges
Hand Injuries
Range-of-Motion Limitations
Radial vs Ulnar Deviations
Forearm Pronation vs Supination
Wrist Flexion vs Extension
anon, anon, and on.
Today, Dealerships and Shops can participate in training programs similar to PersonaGrip's successful Industrial Ergonomics Train the Trainer programs.
Details soon, so please check back.
PersonaGrip's RE-Moldability Allows NON-STOP Tuning at the Human-Machine Interface
Riders love PersonaGrip because they can finally have input on how the bike feels in their hands.
Dealerships and Shop owners love it because they can constantly help their customers remold them to achieve a riding experience that must truly be felt to be believed.
…details soon.